Research Misconduct
Research misconduct is defined as fabrication, falsification, plagiarism, or other serious deviation from commonly accepted practices in the relevant scientific community for proposing, performing or reviewing research, or in reporting research results. Research misconduct does not include honest error or differences in opinion.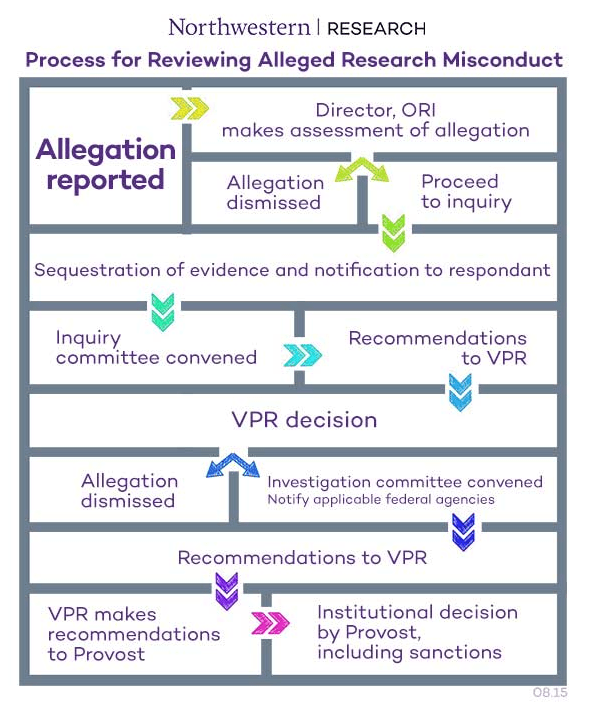 Fabrication is making up data or results and recording or reporting them.
Falsification is manipulating research materials, equipment, or processes, or changing or omitting data or results such that the research is not accurately represented in the research record.
Plagiarism is the appropriation of another person's ideas, processes, results, or words without giving appropriate credit.
Serious deviation from accepted practices includes but is not limited to:

Abusing confidentiality, including the use of ideas and preliminary data gained from:

Access to privileged information through the opportunity for editorial review of manuscripts submitted to journals; and
Peer review of proposals being considered for funding by agency panels or by internal committees, such as the Institutional Review Board (IRB), the Institutional Animal Care and Use Committee (IACUC), and the University Research Grants Committee.

Stealing, destroying, or damaging the research property of others with the intent to alter the research record; and
Directing, encouraging, or knowingly allowing others to engage in fabrication, falsification, or plagiarism.
Policy for Reviewing Alleged Research Misconduct
Procedures for Reviewing Alleged Research Misconduct
---
Reporting Research Misconduct
If you have concerns regarding potential research misconduct:
Contact Research Integrity at researchintegrity@northwestern.edu or 312.503.0054;
Contact your supervisor, department chair or dean; or
Contact Ethics Point. Northwestern has contracted with EthicsPoint, a third party vendor, that will allow you to report concerns online or by dialing 866.294.3545.
Northwestern policy prohibits the taking of retaliatory action against anyone for reporting or inquiring about potential breaches of University policy or for seeking guidance on how to handle suspected breaches. The identity of confidential sources will be protected to the extent consistent with the needs of an inquiry or investigation. Those individuals who provide information in good faith about questionable conduct will be protected against reprisals.
In addition, Northwestern has specific whistleblower protections to comply with American Recovery and Reinvestment Act of 2009 (ARRA) awards.
The University endorses the following introductory statement in the Framework for Institutional Policies and Procedures to Deal with Fraud in Research, issued November 4, 1988, by the Association of American Universities, National Association of State Universities and Land-Grant Colleges, and Council of Graduate Schools.
Fraud in research undermines the scientific enterprise in ways that go far beyond the waste of public funds. Although an uncommon event relative to the large scientific literature, violations of accepted standards inevitably appear in this as in all human pursuits. Institutions engaged in research have a major responsibility, not only to provide an environment that promotes integrity, but also to establish and enforce policies that deal effectively and expeditiously with allegations or evidence of fraud.

In dealing with this problem it is important not to create an atmosphere that might discourage openness and creativity. Good and innovative science cannot flourish in an atmosphere of oppressive regulation. Moreover, it is particularly important to distinguish fraud from the honest ambiguities of interpretation that are inherent in the scientific process and are normally corrected by further research.
---
Resources
Dealing with any compliance issue is difficult. The University has resources to help you deal with challenging situations.